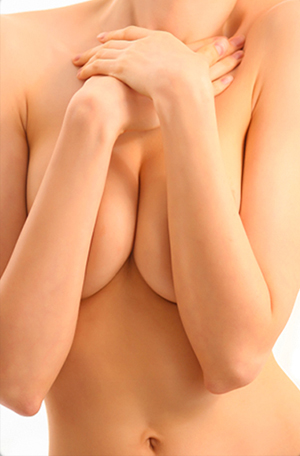 Please remember everyone is unique and that your results may vary from those shown
How a woman feels about her body has a lot to do with her overall self-confidence, that's no secret. When breast size or shape is an issue, many women turn to breast enhancement to increase their confidence, look better in their clothes, and, bottom line, present the image they want to the world.
Ideal candidates for Breast Augmentation
Your reasons are as unique as you are and that's why its important to have a good understanding about your personal needs and expectations and be able to express them to us. Together we can then discuss the options available to you and choose just the right implants for your body and desired outcome.
Breast Enhancement Options
In addition to shape, size and texture, you also have a choice between Mentor MemoryGel and saline-filled breast implants.
Breast Implant size
Breast implants are measured in cubic centimeters, not cup sizes. This is because the size of the implant used depends on the size and shape of the individual woman's chest.
During your consultation, we will evaluate your existing breast and skin tissue to determine if you have enough breast and skin tissue to cover the breast implant you are considering.
Breast Implant Profile
In addition to size and shape, breast implants are available in different profiles. Profile refers to the amount of forward projection of the implant off the chest wall. Round implants are the most popular choice and come in a variety of profiles:
Moderate
Moderate Plus
High
High profile implants provide the greatest forward projection for a more prominent silhouette, and are designed for a narrower chest area. Contoured implants provide a more mature, slopped breast shape, and come in Moderate and High Profile styles. However, it's important to know that when contoured implants are placed beneath the chest muscle, they may assume a round shape.
During Breast Augmentation surgery
Breast Enhancement is performed on an outpatient basis at the Woodland Surgery Center located in Michigan City, Indiana. General anesthesia is commonly used, but local anesthesia with sedation is also an option.
Before and After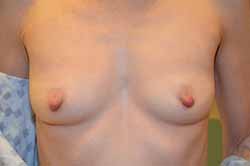 *results may vary
What to expect after Breast Augmentation
Following surgery most women feel a bit tired and sore for several days. Your breasts may remain swollen and sensitive to physical contact for a month or longer. You may also experience a feeling of tightness in the breast area as your skin adjusts to your new breast size.
Breast Implant Recovery
Post-operative care can vary. After surgery, we will discuss post-operative care that may include wearing a specific post-operative bra, compression bandage, or jogging bra for extra support and positioning as well as what activities you may want to refrain from while your body heals.
When can I return to my regular activities?
You can probably return to work within a few days, however, avoid strenuous activities for a couple of weeks that could raise your pulse or blood pressure or require strenuous use of your arms and chest.
Schedule a consultation
Breast Enhancement can work wonders for self-confidence, but the first step is up to you. Contact us today to schedule a personal consultation about the benefits of breast enhancement and what results we can deliver for you. Call (219) 464-7546 today!