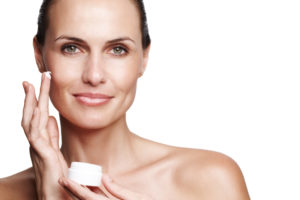 Amongst getting things like Botox injections and facial fillers done on a regular basis, it's important to use anti-aging skin care products as part of your routine. However, with so many products claiming to do wonders for your skin and turn back time, it can be hard to differentiate between products that are making false claims and ones that will deliver you with real results. From alpha lipoic acid to neuropeptides, this article will discuss three of the ingredients that you should be looking for in your anti-aging skin care products.
Alpha Lipoic Acid
When it comes to putting any acid on your face, it may make you want to run for the hills, but acids like alpha lipoic acid, or ALA, is not only safe for your skin but it will do wonders for it as well. As one of the strongest antioxidants, ALA is water soluble which means that it is absorbed by your skin so that it receives the moisture that it needs. By receiving the proper amount of moisture, ALA will help to plump up your skin and reduce the appearance of fine lines and wrinkles. Additionally, ALA can reduce inflammation, blotchiness, or skin irritation that can cause your skin to look uneven.
Retinol
As one of the most popular anti-aging ingredients, retinol works to lift, firm, and tighten the skin from the inside out. Additionally, retinol can help reduce the appearance of sunspots and acne scars by making the skin tone appear even.
Neuropeptides
Not to be mistaken with pentapeptides, neuropeptides decrease the appearance of fine lines and wrinkles on the skin. By helping increase the moisture and hydration in your skin, neuropeptides firm up the skin and give off a more youthful looking glow.
Schedule a consultation
As part of your skin care routine, make sure that you are looking for products that contain the above ingredients. To learn more about skin care products or treatments, contact the experts at DeLaine Anti-Aging Cosmetic & Eye Surgery today.