WHAT IS JUVÉDERM VOLBELLA® XC?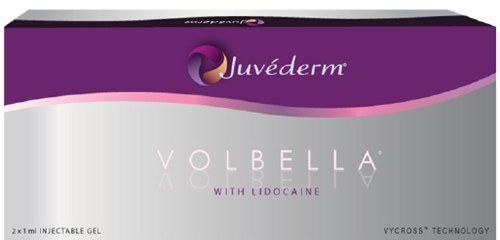 JUVÉDERM VOLBELLA® XC  is the latest addition to the Juvederm collection of fillers. Juvederm Volbella is an FDA approved injectable for the lips. Juvederm Volbella is a nonsurgical lip filler brought to you by Allergan, the maker of Botox, Juvederm and Kybella. In clinical trials, Juvederm Volbella was found to increase lip fullness and soften fine lines around the mouth without surgery.
WHAT DOES JUVÉDERM VOLBELLA® CORRECT?
Perioral lines – (lines and wrinkles around the mouth and lips)
Marionette lines
Corners of the mouth that turn downwards
Cupid's bow (creating a pouty, fuller look)
HOW LONG DOES JUVÉDERM VOLBELLA® LAST?
Most patients who have received Juvederm Volbella have results that last up to 1 year.
WHAT MAKES JUVÉDERM VOLBELLA® DIFFERENT?
Juvederm Volbella is unique because it uses Vycross Technology. Vycross Technology is an new and innovative filler technology from Allergan that allows for the product to address specific concerns. Vycross Technology focuses on age-related volume loss such as wrinkles or smile lines.
JUVÉDERM VOLBELLA® POSSIBLE SIDE EFFECTS
The most common side effects are swelling, tenderness, bruising, firmness, lump or bumps, redness, pain, discoloration, and itching. Most side effects of Juvederm Volbella are minor and should last no longer than 30 days. However, if you are experiencing more severe side effects, please call DeLaine Anti Aging Cosmetic & Eye Surgery.
SCHEDULE A CONSULTATION
For more information on Juvederm Volbella XC, or other facial fillers, call DeLaine Anti Aging Cosmetic & Eye Surgery at (219) 464-7546 today! DeLaine Anti Aging Cosmetic & Eye Surgery serves Valparaiso, Michigan City IN and surrounding areas.