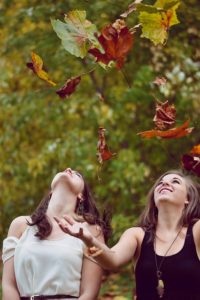 As you bid summer a fond farewell, perhaps you are looking for a subtle way to improve your appearance, reclaim your youth, or just brighten-up your "look" for the holidays. Perhaps you would like to look better without undergoing surgery, making a drastic change, or taking time off from work. Read on to learn 4 surgery-free ways to improve your "look" for fall:
Facial Peels
Facial Peels — Get rid of acne scars, clogged pores, fine lines and red, blotchy areas with a facial peel. We offer peel formulas to match every skin type. Our peel options include the enzyme peel, glycolic peel and TCA peel.
Botox
Ah, Botox. Popular world-wide, Botox is used to reduce the appearance of wrinkles that are caused by repeated muscle movements. You don't have to stop smiling or expressing emotion, Just let Botox reduce the appearance of smile crinkles around your eyes, frown lines around your mouth, and brow furrows in your forehead. Most patients see results after a few days and the results last for 3 to 6 months. If you undergo repeated treatments, the results will usually last longer after you've been in a few times. Botox is commonly used to improve the upper third of the face.
Dermal Fillers
Dermal fillers can reduce the appearance of acne scars, soften lines around the face, and reduce heavy lines in the nasolabial area. Dermal fillers are also used to restore lost fullness to cheeks and to give lips a plumper, more youthful appearance. The results of this procedure are usually immediate and last from 6 months to a year depending on the type of filler. Dermal fillers offer long lasting results and improve the appearance of the lower two thirds of the face.
Laser Skin Resurfacing
Laser skin resurfacing is a quick procedure that is designed to reduce the appearance of fine lines and wrinkles in the delicate areas around the eyes and mouth. This procedure can tighten loose skin and improve the skin's texture and tone. Most patients can return to their regular activities immediately following the procedure.
Schedule a consultation
To learn more about improving your "look" without invasive surgery, we invite you to call to schedule a consultation appointment, today: (219) 464-7546. DeLaine Anti-Aging Cosmetic & Eye Surgery serves Valparaiso, IN and the surrounding areas!