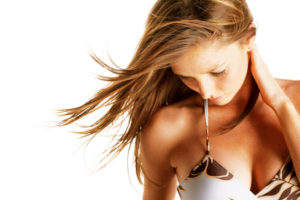 Thirty-some years ago, it was only select magazine models who chose to enhance their décolletage with breast augmentation surgery. Today, augmentation (implant) surgery is one of the most common and popular plastic surgery procedures world-wide.
If you're considering implants but are a bit apprehensive because of some things you may have heard about the procedure, read on. Breast augmentation surgery has minimal recovery time and few side-effects. It isn't as scary as it may sound. If you're debating whether or not to get implants, it's important to understand the distinctions between myths and facts.
Here are four myths that may help you make a more informed decision:
1) Breast Implants Look Fake

One of the biggest myths surrounding breast augmentation surgery is that your breasts will not look natural. That couldn't be further from the truth. You will consult with your surgeon prior to deciding upon implant surgery to help you decide what shape, size and texture of implant would be ideal for your body size and type. We want you to look proportionate and natural.

2) Larger Breasts Will Make Me Look Skinny

It's true that in some women larger breasts will make their waist look smaller. But breast implants won't make you skinnier. The only road to "skinny" is to add a healthy diet and exercise routine into your lifestyle.
3) Larger Breasts Will Make Me Happy

If you are choosing implant surgery in the hope it will make you happy, you may want to reconsider. Augmentation surgery can enhance your appearance, that's true, but it is not guaranteed to give you a happier outlook on life.

4) Silicone Implants Aren't Safe

During the '80s and '90s there were problems with silicone implants leaking or breaking. However, with advanced, new technology, silicone implants are safe. Additionally, at DeLaine, you have a choice between Mentor MemoryGel and saline-filled breast implants.
Schedule a consultation
Breast augmentation surgery is safer than ever, with choices to compliment every body type. To learn more, call to schedule a consultation appointment, today: (219) 464-7546.