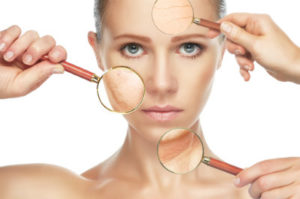 If you are of "a certain age" you probably have a few liver spots, age spots or sun spots on your face or hands. The fancy name for these is Solar Lentigines. Regardless of their name, when they appear as spots on your hands and face, they can give away your age.
What are Skin Spots (Age Spots)?
Dark spots on your skin are collections of pigment (melanin) that appear after cumulative exposure to the sun's UV and UVB light. This is why they most commonly appear on your face and hands. There are subtle differences, however. Freckles, which are also common, may have a genetic component, but like the other spots, they are most often caused by time in the sun, and they usually darken and multiply with increased exposure. Solar lentigines aren't typically genetic. But they do tend to become more prominent with age and additional sun exposure, giving them the name "age spots."
What do Age Spots mean?
None of these unsightly spots necessarily mean you'll get skin cancer. But they could be a sign that you're at greater risk.
They are definitely an indication that you should be using more sunscreen. For best coverage, choose one that has an SPF of at least 30 and blocks both UVA and UVB rays.
It's important to err on the safe side, so make it a point to visit us once a year for a full-body spot check to ensure that any marks, spots or splotches aren't actually moles, and to look for changes in any pre-cancerous lesions or moles.
At DeLaine, we provide a variety of treatments for spots by any name, including cosmetic laser treatments, one of the most efficient and proven ways to treat age spots. We also offer a corrective skin care line that can restore, repair and enhance your natural beauty. We look forward to discussing these and our other aesthetic services with you.
Schedule an appointment
Call to schedule an appointment, today, because fall is here and those holiday parties are not far behind. Call Dr. Van Putten and Michelle O'Laughlin at (219) 464-7546! He serves Valparaiso, IN and surrounding areas.