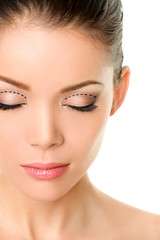 Aging can certainly take a toll on all parts of your body, including your eyelids. As you age, the skin and muscles around your eyes start to weaken— leaving you with droopy eyelids. Luckily with a surgical procedure called Blepharoplasty, the doctors at DeLaine Anti-Aging Cosmetic & Eye Surgery can remove excess skin, muscle, and fat in your eyes— getting rid of any droopiness. If you are considering getting a blepharoplasty, it's important to know exactly how you can prepare for it. Read on to learn more.
Stop Taking Blood Thinners
At least two weeks before your surgery, you should stop taking herbal supplements and blood thinning medications like ibuprofen, aspirin, and naproxen. Blood thinners can complicate your surgery and make it difficult for you to heal afterward. During your initial consultation, you and your doctor will go over any medications you are on to make sure they are safe enough for you to take during your surgery.
Undergo Examinations
Before you get a blepharoplasty, you will have to undergo three main examinations including a physical examination, a vision examination, and eyelid photography.
Physical Examination: This is done to ensure that you are healthy enough to have surgery.
Vision Examination: This exam is done to look at your vision and the overall health of your eyes.
Eyelid Photography: Photographs of your eyes will be taken to look at their condition and map out a surgical plan.
Schedule a Ride Home
Because you will be sedated and won't be able to see very well after surgery, you will need to schedule someone to drive you home afterward. If you don't have anyone, contact our office, and we can schedule a taxi service for you.
Preparing for your blepharoplasty is one of the best ways you can guarantee that you get great results. To learn more about this surgery or to schedule an appointment, contact DeLaine Anti-Aging Cosmetic & Eye Surgery today!