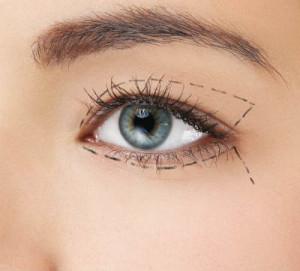 Some say the eyes are the windows to the soul. True or not, they are definitely one of the first things people notice about you. But time, age, exposure to the sun and heredity can cause the lids of the eyes to droop.
Drooping eyelids is one of the major reasons people consider blepharoplasty, also known as eyelid surgery or eye lift. A blepharoplasty is a surgical procedure which effectively tightens and removes excess upper eyelid skin, muscle and sometimes fat for a more alert and youthful appearance. As a side benefit, blepharoplasty may also improve your vision by providing a less obstructed field of vision once the drooping eyelids are improved.
Your surgery will be done as an outpatient procedure in our office where we take every precaution for your safety and comfort.
During the procedure, small incisions are made in the natural crease of the upper eyelid. Excess skin and fat are removed and the incision is closed.
Consider blepharoplasty if:

You have loose skin which hangs down from your eyelids and covers your lashes
You have excess skin which cover the natural fold of your eyelids
Your lids appear puffy, making you look aged and tired
What happens after surgery?
Following your surgery, expect your eyes to be swollen and bruised. You may also experience some pain and blurred vision. It is important to keep your head in an upright position.
Applying ice packs to your face can soothe the pain and control any inflammation.
You will be given pain medications an antibiotic ointment to prevent infection
Heavy exercise is not recommended for several weeks after surgery as elevating your blood pressure can hamper the healing process.
Walking is recommended in the early phase of your recovery…but take it easy! No brisk, workout-type walking even though you may be accustomed to it. The goal is to promote circulation and healing.
Avoid exercises that require you to bend over, such as yoga, and avoid lifting heavy weights for up to three weeks.
Call for a consultation…We look forward to discussing this life-changing procedure with you.