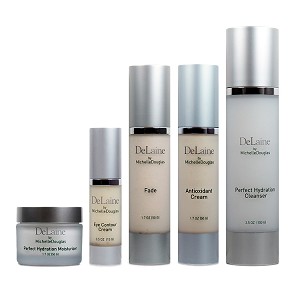 We all want to maintain the beauty and vitality of our skin, the way it was when we were younger. It can be difficult though, with our daily exposure to the harmful rays of the Sun and the chemicals and toxins in our world. Fortunately, DeLaine Skin Care, by MichelleDouglas, has created an anti-aging kit that combats these degrading elements and restores the elasticity and health of our skin. This 5-piece kit is specially formulated to work together to repair damaged skin and provide dramatic results that last. From the Perfect Hydration Moisturizer and Cleanser to the incredibly healthy Antioxidant Cream, this anti-aging system reduces hyperpigmentation and redness, plus provides superior hydration in a completely hydroquinone-free therapy. Look and feel younger naturally with this revolutionary age-defying collection of proprietary skin care products.
Restore a more youthful appearance to aging skin by minimizing the signs of aging including fine lines and wrinkles, brown spots and sunspots
Perfect Hydration Cleanser
Antioxidant Cream
Fade
Eye Contour Cream
Perfect Hydration Moisturizer
Wash with Perfect Hydration Cleanser to decrease build up while conditioning and hydrating the skin.
Antioxidant Cream formulated with Vitamin C will help the lightening process while repairing damaged skin with the benefits of Soy, Vitamin K, Co-Enzyme Q10 and Vitamin E.
Fade, formulated with Tyrostat will reduce hyperpigmentation and redness. Fade is Hydroquinone free and delivers amazing efficacy with no adverse side effects.
Eye Contour Cream prevents puffiness around the eye region and reduces the appearance of bags under the lower lids giving a refreshed more youthful appearance. Perfect Hydration Moisturizer adds superior hydration with Hyaluronic Acid and decreases dryness and irritation.
* Chronic melasma and hyperpigmentation respond very well to the combination of Fade mixed with equal parts of Retin–A or other topical therapies
Additional Information
Product Size:
Perfect Hydration Cleanser – 3.5oz (100 G) Airless Pump
Perfect Hydration Moisturizer – 1.7oz (50 G) Jar
Antioxidant Cream – 1.7oz (50 G) Airless Pump
Fade – 1.7oz (50 G) Airless Pump
Eye Contour Cream – 0.5oz (15 G) Airless Pump
Dramatic Skincare. Dramatic Results
Choose Products That Work Together for Your Best Possible Skin
You may have recently noticed fine lines developing near the corners of your eyes and around your mouth. While wisdom is beautiful, you may not welcome the wrinkles and sagging skin that often accompanies maturity.
In the beauty industry, there are so many different anti-aging products that it could make your head spin. Mixing and matching products could be unproductive. You may be better able to meet your skin care goals — youthful, glowing skin without the lines and dark spots of age—by choosing the Anti-Aging Kit from DeLaine by MichelleDouglas. Our line was specially developed to soothe and restore aging skin.
Products Included in the Anti-Aging Kit
The first part of good skin care is a gentle cleanser. The Perfect Hydration cleanser fits the bill perfectly, with the ability to cleanse away build-up while nourishing and moisturizing. The kit also contains Antioxidant Cream, which begins the process of lightening dark patches while infusing the skin with age-fighting vitamins.
Our Fade cream further lightens dark spots to restore an even skin tone. This product is gentler than commercial skin care products that use drying hydroquinone. Fade uses a naturally derived ingredient called tyrostat instead, which decreases the appearance of age spots without side effects.
Eye Contour Cream is also important for a more youthful appearance. An easy application under and around the eye can decrease puffiness. The last step in the anti-aging daily care routine is an application of the Perfect Hydration Moisturizer. Packed full of moisture-saving ingredients, this product will restore hydration to dry, aging skin.
Make the Comprehensive Choice
Don't leave your appearance to the guessing game of assembling random products from different brands for your skin care routine. Instead, choose a comprehensive line in which all of the products included work together to restore a youthful and healthful appearance to your face. Protect your skin today by ordering the Anti-Aging Kit; call us at (888) 632-8222.
Other DeLaine Skin Care Products