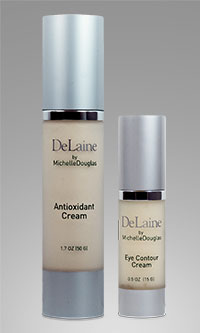 Antioxidant Cream
Specifically formulated, Antioxidant Cream is packed with high concentrations of vitamins and botanical extracts. Co-Enzyme Q10 is a crucial component in the cellular energy production cycle. Co-Q10 plays an important role as a free-range scavenger. Soy protein reduces blotchiness and has a natural moisturizing component, Vitamin E. Overall, Antioxidant Cream has the ability to protect the skin from daily environmental damage and aid in reversing accumulated hyper pigmentation and damage. This daily cream is excellent for all skin types and can be added to pre and post chemical and surgical protocols.
Directions: Apply 2 pumps of cream to clean skin during A.M. skin care regimen. Blend over face & neck. Follow with moisturizer if needed, apply our sunscreen for additional protection.
Caution: For external use only. If irritation occurs wash treated area thoroughly with water.
Additional Information
Product Size: 1.7oz (50 G) – Airless Pump
Key Ingredients: CoEnzyme Q10, Vitamins C, E &K, Soy, Grapefruit Extract, Green Tea Leaf Extract, Spirulina Maxima Extract
Summary
Continuous Repair & Protection with Vitamins C&K
CoEnzyme Q10 Provides Energy to Cells
Soy Provides a Smooth Velvet Finish
Eye Contour Cream
Advanced Peptide Technology lends itself to this special formula featuring Eyeliss. Eyeliss has two very important functions: Prevent puffiness around the eye region and reduce the appearance of bags under the lower lids Research shows that the active properties decrease capillary permeability, improve lymphatic circulation, and improve firmness, elasticity while decreasing the inflammatory phenomena. Eye Contour Cream can be used morning and evening and is safe for contact wearers.
Directions: Apply 1-2 pumps to upper and lower eyelid region. Blend gently. Use on clean skin in the A.M. & P.M.
Caution: For external use only. If irritation occurs wash treated area thoroughly with water.
Additional Information
Product Size: 0.5oz (15 G) – Airless Pump
Key Ingredients: Eyeliss, Cucumber Extract, Vitamin E, Shea Butter
Summary
Reduces Dark Circles & Puffiness
Cucumber Extract Calms Tired Eyes
Advanced Peptides Firm & Hydrate
Other DeLaine Skin Care Products