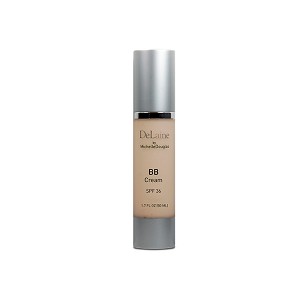 A brilliant formulation of antioxidants that hydrate, repair and protect the skin with daily use. This unique formula offers Elhibin and Colhibin, which helps prevent collagen breakdown. Specifically created with a beige tint to hide imperfections, redness and inflammation. BB Cream is highly effective in protecting the skin from UVA/UVB exposure while delaying environmental aging.
Enjoy the Sunshine and Protect Your Skin
Basking in the summer sunshine is a special treat for many women. It can be a time to relax with a favorite book, a cool drink, or good friends. However, exposing one's skin to harmful UVA and UVB rays from the sun can lead to painful sunburns and unsightly damage. Therefore, women will greatly benefit from proper skincare products to repair and protect their skin.
BB Cream With SPF 36
The skincare experts at MichelleDouglas have formulated BB Cream with SPF 36, a nourishing and protective face cream for all those days a woman's face is exposed to sunshine. Our DeLaine line of skin products contains unique ingredients that provide nutrients, protection, and repair to a women's skin. Our BB Cream is a great way to moisturize and protect from the sun's rays on a daily basis.
This cream contains these special components, including:
Elhibin – A soy protein that helps the skin stay firm yet soft, meaning fine lines and wrinkles are less likely to appear.
Colhibin – A rice peptide that brings moisture to the skin and helps delay the aging process.
Beige tint – Provides coverage from redness and other imperfections that any woman wants to conceal.
Glow With Nourishment
BB Cream has been known to bring a soft glow to a woman's skin. It is perfect for wearing under makeup and works as a great cosmetic foundation as well. With nourishing qualities and protection from the sun, this cream is a wonderful addition to any woman's skincare routine. The lightweight cream combined with essential elements for the skin is a great investment for the health of women's skin.
Contact a helpful and professional representative of DeLaine by MichelleDouglas at 888-632-8222 for more information or to order.
Additional Information
Product Size: 1.7 oz (50 ml) – Pump
Key Ingredients:Contains Elhibin, a soybean protein that increase firmness and smoothness. Contains Colhibin, a highly potent rice peptide that increases hydration and delays early signs of aging.
Other DeLaine Skin Care Products